Compliance, Sustainability & Traceability
Our certification agency guarantees that all production procedures in the entire supply chain, follow the proper steps to ensure the integrity of the final product. In addition to monitoring the chemical content of the finished product, water use, Co2 and energy consumption are also accounted for.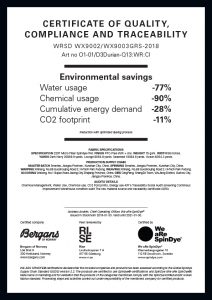 The We aRe SpinDye®-certification is based on LCA's methodology with the ISO Standard 14040-series. The Key Performance Indicators (KPI) are comparable to industrial dyeing method standards.
Water usage
CO2 footprint
Chemical usage + list of chemicals
Cumulative energy demand
This method is based on a tracking and tracing formula which uses a transaction certificate based system, similar to the organic certification system, ensuring the highest level of integrity. It is also subject to rigorous inspection and third party validation. All of our fabrics are checked by third party validated certifier: RISE.
Life Cycle Assessment Standards
We base our work on the set LCA standards. This offers a framework of key performance targets and process. After spending decent efforts in studying different approaches, our assessment is that the LCA is an underlying base in most of the existing standards available.
RISE (Research Institute of Sweden)
Due to the current lack of an LCA based, integrated and for our method applicable approach, we have been forced to developed a customized process together with independent research organization, RISE (former Swerea). After rigorously analyzing the fabric production process, the KPIs defined are Water usage, chemical usage, CO2 , and energy consumption. The method we measure these KPIs is based on the LCA standards. The KPIs are measured in ALL production steps, accumulating a total score. This total score is benchmarked with conventional dyeing.